Focus on our future workspaces for collaborative working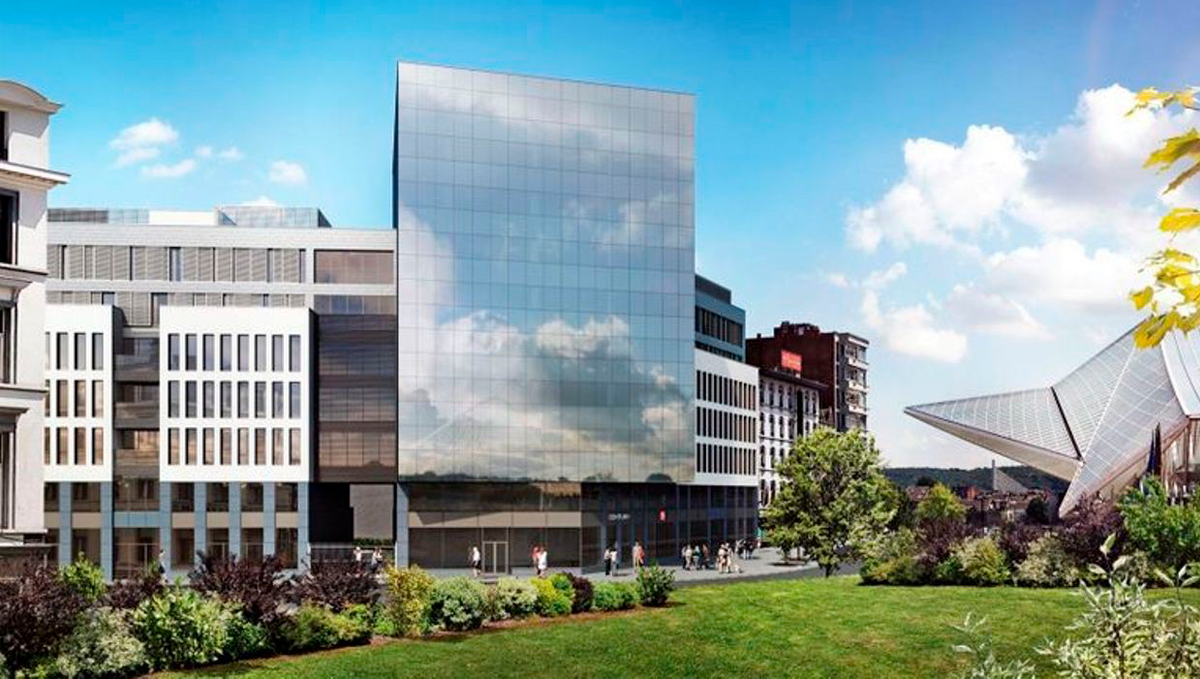 Gaming1's Belgian headquarters will move during 2021 to new offices at the heart of Liege, opposite the Guillemins train station, which is a real masterpiece of the artist Calatrava.
Connection, sharing and performance are our new offices' key words. They respond to each employee's needs through adapted facilities: agile and activity-based spaces, collaborative rooms, flexible rooms, audiovisual hub, smart rooms, meeting rooms, telephone booths and even relaxation and sharing spaces.
This new tool will allow us to work in an interdisciplinary way, embody the Gaming1 values and promote collaboration, as well as stimulate creativity and everyone's pioneering and entrepreneurial spirit. This project was presented to our employees in the first virtual talk about placed under the heading of sharing.
The Ardent City, a choice of the heart
Located in the centre of Liège, a stone's throw from the Guillemins train station, these new offices take advantage of a privileged geographical position. It was a choice of the heart for Gaming1, as its CEO Emmanuel Mewissen explained: "Keeping a strong local anchor is something that matters to us. One of our missions is to participate in the socio-economic redeployment of the region we were born in. This is why we decided to establish our offices in Wallonia, despite many companies leaving to set up in Malta or even Gibraltar. We accepted the challenge of staying in the place we received our education and being a reference, an example among Walloon companies."
These new buildings also respect the environment and have the BREEAM certification, a reference standard for sustainable construction. Nicolas Léonard, Gaming1's CFO, expressed his delight: "It is an extremely well thought out project in terms of mobility, accessibility, carbon footprint and respect for the environment, in an area that is in the process of being completely renewed."
Collaborative spaces where we can embody our values
In this new space, Gaming1 wishes to embody, more than ever, their 5 key values, which have always been at the heart of the company's dynamic. Sylvain Boniver, Gaming1's COO, explained how the values are represented in this new project: "One of the first values that we want see developing is team spirit. Human interactions are at the core of everything. In these new offices, we want to promote exchanges between employees and different teams. This aspect also covers the value of performance as the more exchanges there are, the better we will perform. Pleasure will also be at the heart of these new facilities, with several spaces that will allow informal exchanges, such as the Gaming1 café, relaxation spaces and bars. As for the value of boldness, we can find this in the decision to invest today to create spaces that are more ecological, more urban, and better aligned with the working methods of tomorrow."
A project geared towards the future
These new offices are an important financial investment for Gaming1, but they should allow the company to develop and continue its growth in the market, as Nicolas Léonard explained: "The Guillemins project will give us the means to grow. This investment will allow us to establish an environment adapted to reaching a level of performance and collaboration which, therefore, will help place us amongst the best market players. These spaces were designed to respond to our daily needs and absorb a large part of the future resources that we are going to use to develop in an enjoyable way."
Emmanuel Mewissen added: "This project will allow us to project the next 10 years. We want these new offices to improve understanding of the business and stimulate sharing, links and contact between all our employees. They should promote innovation, stimulate creativity, help create motivation, attract and arouse vocations, but also improve performance, as we are in an ultra-competitive digital world and a constantly changing society."
Spaces adapted to the needs of each employee
This ambitious project is a major change for Gaming1 and its employees, who will have to adapt to a new environment. Based on collaboration, these new offices aim to ensure each employee's path crosses to promote sharing. The multitude of spaces dedicated to different ways of working allow everyone to find their place each day depending on their activities and objectives.
There will be some important, but also necessary and beneficial, changes for everyone as Julie Tomas, Gaming1's HR director, pointed out: "Behind these facilities, there is a whole philosophy, a search to boost well-being at the office and therefore the company's performance. I would like each employee to find their place and this working space allows them to find meaning in their activities. I would like these offices to give a real boost to reinforce collaboration at Gaming1, so everyone can learn from the work and ideas of others in order to develop their job, talents and career at Gaming1. These new offices will also allow us to attract new talent, an important point for the business in the coming months."